Sand, Dynamism, Stripe in Chicago, Barnes & Noble, and Hip-hop
Hey everyone,
Tons of stories which I had fun exploring this week so let's get right to it. As always, I'd love to hear your thoughts on any of the topics. Just reply to this email to send me a note.
In this issue, I talk about:
Why we are running out of sand

Dynamism in the Chinese economy

Stripe opens up an office in Chicago

Will James Daunt be able to save Barnes & Noble?

Hip-hop and business

And more!
Book of the week
Who knew something as innocuous as sand could be so fascinating? And that for something that seems so abundant, we might soon run out of it?
The World in a Grain by Vince Beiser is a book about sand. We use more than 50 billion tons of it every year, making it the third most used natural resource after air and water.
The right kind of sand: The reason why we're running of sand is two-fold. First, urban construction around the world has accelerated and sand is the one of the primary ingredients of concrete. Second, the problem is not that we don't have enough sand. The problem is that we don't have enough of the right kind of sand. The abundant kind of sand found in desert is shaped by air, which makes it smoother than the kind of sand found at the bottom of river beds, which is shaped by water and is coarse. You need to use coarser sand for concrete, as it has a larger surface area. It's the difference between building with lego bricks versus building with ping pong balls.
Fragility of ideas: The story of sand is closely linked to the story of concrete. That story is equally fascinating. The Romans used concrete to build an empire. I've written about how ideas are fragile at inception, but ideas are also fragile if they don't get used. After the Roman Empire collapsed, concrete was unused for 1500 years. It got a rebirth after the San Francisco Fire of 1851, when only buildings made with concrete survived.
2nd order effects: There are two examples of 2nd order effects in the book that stuck out to me.
1) Large scale urban migration led to a construction boom, which required an increase in the production of concrete, which in turn required mass extraction of the right kind of sand from river beds.
2) When the Chinese government banned the sand mining from the Yangtze River, production moved to Poyang Lake. Fishing has been banned at Poyang since 2002. The ban left a vacuum of economic opportunities that sand mining has filled, accelerating sand mining and the harm to the lake ecosystem.
Other books in this genre
Debt, The First 5000 Years by David Graeber: The perfect anthropological work. Exploration of a wide variety of topics – why we gift things, how to incite hatred, Chinese tribute systems, and the lifting of the gold standard. All through the lens of debt.
Salt: A World History by Mark Kurlansky: Similar concept of taking a single commodity and exploring its effect on history.
Long read of the week
[Annotated by me] [Original] RV Capital Investor Letter for H1 2019
This was a great investor letter by Robert Vinall at RV Capital. The section that stuck out to me the most was about the dynamism in the Chinese economy:
The Chinese economy is incredibly dynamic. I did my first road trip visiting Chinese Internet companies in August 2013. Back then JD ("the Amazon of China"), Baidu ("the Google of China"), and Ctrip ("the Booking.com of China") were all in the ascendancy. Today, they are shadows of their former selves, having been eclipsed by companies that in some cases did not even exist in 2013. In the West by contrast, Amazon, Google, Booking and most of the other Internet companies that were dominant six years ago remain dominant today. From a societal perspective, the high level of creative destruction is fantastic. For an investor, it is humbling. Many of the companies that I thought had sustainable competitive advantages six years ago turned out not to have had. One of Business Owner's investment criteria is that a company should be around and flourishing ten or more years from now. I struggle to think of a Chinese Internet company that meets this criterion today with the possible exceptions of Alibaba and Tencent, whereby even here I am not 100% certain.
This goes hand in hand with high levels of competition where profits get competed away:
Competition is brutal. On the trip, one investor quipped: "The reason Western companies cannot compete with Chinese companies is because Chinese companies cannot compete with Chinese companies". His point was that all profits get competed away and then some. Many moats in China are weaker than in the West and in some cases non-existent.
Here is a PDF with my annotations.
Personal update of the week
I went to a panel moderated by Stripe co-founder John Collison about Chicago's come up on the tech scene. He was joined by Melissa Kaufman of The Garage at Northwestern (Go 'Cats!), Neal Sáles-Griffin, and Brian Liston.
The panel was symbolic as Stripe is opening a new office in Chicago, which John called "the best kept secret in the tech world." I agree – great quality of life adjusted for the cost of living, a thriving entrepreneurial ecosystem, and a steady stream of technical talent from highly-ranked public and private Midwestern universities.
And they had free books from Stripe Press!
My favorites are The Revolt of the Public by Martin Gurri and High Growth Handbook by Elad Gil.
Gesture of the week
This thread from Jim O'Shaughnessy is a timely reminder about how to focus on things you can control. It's a bit long, but well worth the time.
1/ If you can change your focus, you can change your future. Don't spend a minute worrying about something that you can't control. If something can't be changed by you taking direct action, put it out of your mind. Today's society is overrun with useless distractions
Business move of the week
Can Britain's Top Bookseller Save Barnes & Noble?
It's tough to be an independent bookstore these days with Amazon controlling roughly 50% of the US market driven by unparalleled convenience and low costs. No wonder even "big box" chains like Barnes & Noble have struggled. Right now, B&N is a footnote in the Amazon story. That might be about to change.
Elliot Advisers – the PE firm which recently acquired B&N – has turned around UK-based bookstore Waterstones from "the verge of bankruptcy" to "a steady 10% margin on sales of roughly $500 million." The linchpin of the transformation? James Daunt.
Daunt is now being put in charge of Barnes & Noble.
While I am skeptical of applying lessons from another country to the US market (or any other market), there are three strategies that Daunt used at Waterstones:
1) "Independent bookstores with the buying power of a chain": Daunt gave wide-ranging autonomy to each Waterstones location on everything from curation decisions to the in-store furniture. This essentially made them independent bookstores that could be modified to suit the needs and tastes of the local audience by the in-store staff. At the same time, they would continue to bargain with high pricing power with publishers as the larger company. The decision to give such broad autonomy to various locations must have been difficult as companies typically want to reduce costs due to replication of labor.
2) Removal of co-op fees: Co-op fees are paid by publishers to give them control of the stocking and placement of books in the bookstore. Daunt likens them to "crack, an easy high that comes with an intolerable price." By leaving $38 million per year in co-op fees on the table, he took back control of his bookstores. This allowed him to give autonomy to the managers at different Waterstones locations as I mentioned above. I can't think about how difficult that decision must have been to sell to management and what kind of ROI analysis Daunt presented to convince them of forgoing $38 million of revenue per year.
3) Bringing in college-aged students: It makes sense that Waterstones is appealing to college students who get addicted to the ambience and experience, then come back as customers who buy high-priced books. Experience (and electricity) as a loss-leader is an interesting business strategy that Barnes & Noble is only exploring through its collaboration with Starbucks at a few locations.
The Waterstones transformation will definitely make a great HBS case study. It remains to be seen whether B&N will get its own or if it will remain a footnote in Amazon's.
Recommendation of the week
I'm a huge fan of the Trapital newsletter by Dan Runcie. It's all about the business side of hip-hop. I know a lot of readers of Snapshots are big hip-hop fans, so I hope you enjoy Dan's take on things.
Here is where Dan recommends you start your Trapital journey. My favorite article is where he dissects Beyonce's streaming strategy.
Meal of the week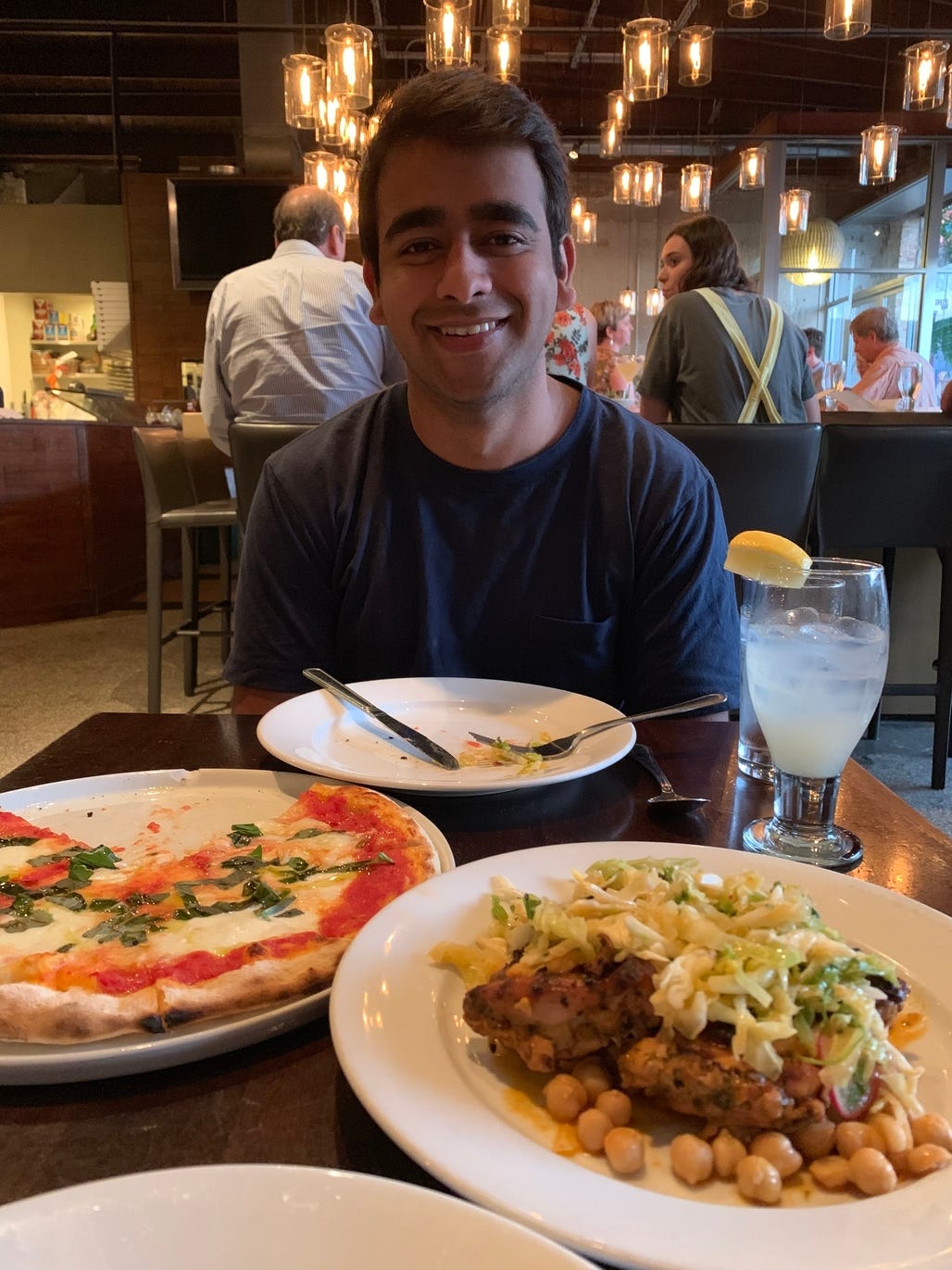 I went to Union Pizzeria in Evanston this week. The Chermoula Chicken (on the right) was amazing. The chickpeas were a great addition to the dish. The pizza was simple and delicious, but nothing to write home about.
---
That wraps up this week's Sunday Snapshots. If you want to discuss any of the ideas mentioned above or have any books/papers/links you think would be interesting to share on a future edition of Sunday Snapshots, please reach out to me by replying to this email or sending me a direct message on Twitter at @sidharthajha.
Until next Sunday,
Sid