Sunday Snapshots (16th February, 2020)
The Revolt of the Public, Efficiency and safety with AVs, Tracking Uber Rewards, Bucket of learning, and Holloway's platform play
Hey everyone,
After a snowy week and days of low light, it was finally a sunny Sunday here in Evanston. I couldn't resist the chance to go on a long walk – hence the later than usual newsletter.
In this issue of Snapshots, I want to explore:
The Revolt of the Public by Martin Gurri

How autonomous vehicles will affect traffic and safety

Tracking Uber Rewards

Buckets of learning

Holloway's platform play

And more!
Book of the week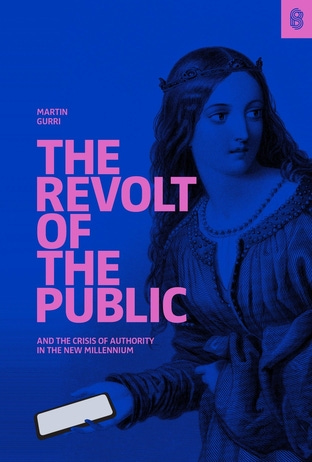 Every now and then, you pick up a book, read a few pages, and just know that it is going to be an important read. That's exactly what I felt when I started reading The Revolt of the Public by Martin Gurri this week. It's a book about how the information sphere (social media, 24x7 news cycle, etc.) is changing our interactions with the real world.
My goal with a book so wide-ranging as this is to come away with a few frameworks or world-views that I can slot future pieces of information into. Every time a piece of information doesn't fit into the framework, it gets a mental asterisk next to it. Once enough asterisks accumulate, the framework is no longer useful and a new one must take its place.
I came away with many frameworks from the first half of this book. Here are a few of them:
Hierarchy and Networks: The old world was built around hierarchies. There were respected news men – like Walter Cronkite – who were the authority on truths and lies. Can you imagine taking a journalist at face value today? It seems ridiculous.

That's because the world is built around networks. Everyone has a voice and it is expected that if you're in one of these networks, you are anti-authority. Even authorities like multi-national corporations act and pretend to be "one of the people" or "relatable" in order to maintain – ironically – their authority. Fast food restaurants have perfected this art on Twitter:

Think about this for a second. This is a company that makes ~$2B every year and is a symbol of American capitalism around the world. In the networked world, it pays (very well) to be anti-authority.

You'll notice that networks tear down authorities at the slightest mistake. Because of the inherent anti-authority bend of networks, it's difficult for networks to govern. As Gurri puts it:

Digital networks are egalitarian to the brink of dysfunction. Most would rather fail in an enterprise than acknowledge rank or leaders of any sort.

They are best suited to act as a counter-balance to authorities. This struggle between authorities and networks is ever evolving. The two hate each other. But at the same time, their existence is defined by the opposite to the other.

Path of least resistance: Information follows the path of least resistance. In the age of authority, the path of least resistance was a conversation with your neighbors or barber about the news of the day. In the age of networks, the path of least resistance is sharing a YouTube of a protest or retweeting the latest hot take. Removing friction is a critical function of technology, and especially the internet. The loss of friction necessarily means the loss of every else that is built upon friction. Most importantly, that includes quality and trustworthiness. It is no surprise then that information that follows the path of least resistance is frequently of the lowest quality.

No sacred cows: The Cambrian explosion of communities around every conceivable niche means that there are no sacred cows on the internet. For me, the most striking example of this is tech twitter. You would think that venture capitalists – the gatekeepers of capital and branding in this industry – would be immune to the public flogging that every "cancelled" celebrity has experienced. Nope. Paul Graham, the co-founder of perhaps the most venerable Silicon Valley institution (Y Combinator), gets attacked on Twitter almost every single day! Many of these attacks go beyond an attack on his ideas and slip into ad hominem territory. Other venture capitalists are not safe either. There's a whole host of accounts around making fun of them – @vcstarterkit, @vcbrags, and @vccomplaints. I don't think we should put gatekeepers up on a pedestal and democratization of opinion is certainly a good thing. But if the gatekeepers in an industry are not sacred to those inside the industry, no one is.
These takeaways were from the first half of the book. Stay tuned for my thoughts on the second half next week. I'm also going to write a longer post on my blog compiling all my takeaways from the book after next week. If you're interested in following along, grab a copy here.
Long read of the week
Traffic Efficiency and Safety Impacts of Autonomous Vehicle Aggressiveness
If autonomous vehicles are immune to many factors – tiredness, inebriation, personal preferences, etc. – that degrade the performance of human drivers, shouldn't they be able to operate more aggressiveness on roads? In the process, would that not translate into greater "throughout" through roads and overall faster travel from point A to point B? These are the questions that this paper from Duke University set out to answer.
They modeled standard human behavior on the road using a series of parameters like the minimum space between cars someone is comfortable with and how fast someone will change lanes. They then changed these parameters to model more aggressive behavior and used AV models from different research labs to simulate the results.
Their conclusion?
The results show that overly conservative AVs are not more efficient and potentially pose new risks to traffic efficiency and safety. In addition, more aggressive AVs with nearly flawless systems appeared to provide small improvements over human-driven vehicles. Potential future work includes examining the effects of AVs in more complicated traffic scenarios that include responding to a wider variation of human behaviors as well as different reliabilities and capabilities of the AVs.
Autonomous vehicles remain a tough problem to crack and I suspect that that they are one of the problems whose progress follows an S-curve – the last 20% of the problem will require 80% of the work. That's before we take into account the required changes to legislation. At least right now, adoption of AVs looks like an uphill task.
Business move of the week
Tracking Uber Rewards
I've written about Uber Rewards before. When they first launched, they started off by giving $5 in Uber Cash every 100 points collected through rides and food deliveries. Then, they gave you a few options about what Uber offering you would like your reward to be centered around.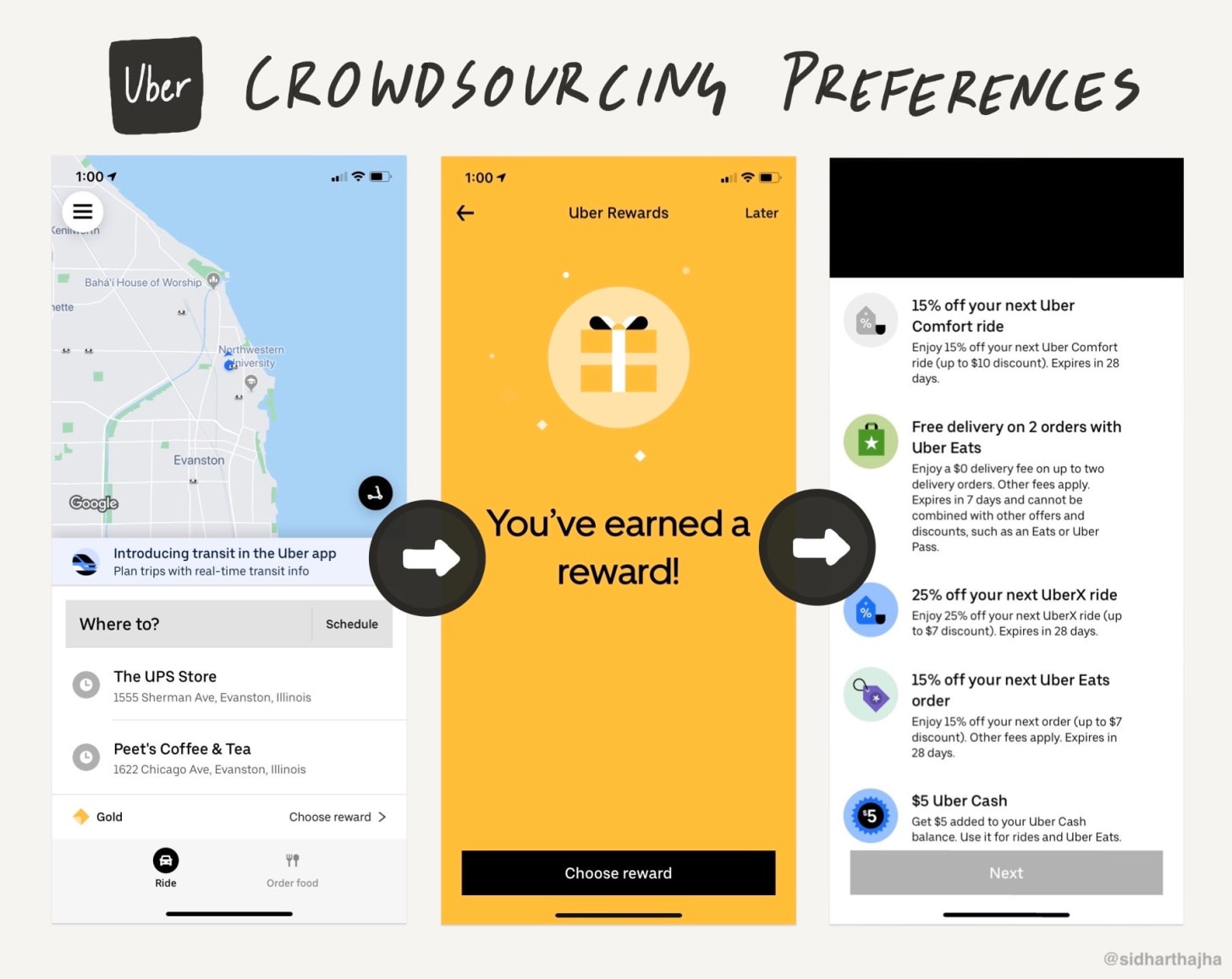 I wrote back then that this has two advantages:
They get an insight into which rewards customers prefer the most, allowing them to further refine their offerings and increase retention (and ultimately the lifetime value of the customer).

They might be able to spend less money on rewards payouts. For example, the total dollar amount for two deliveries might be as low as $0.98 ($0.49/each) if the user orders from restaurants close by.
Now, it seems they have added (and removed) more offerings with some fascinating additions.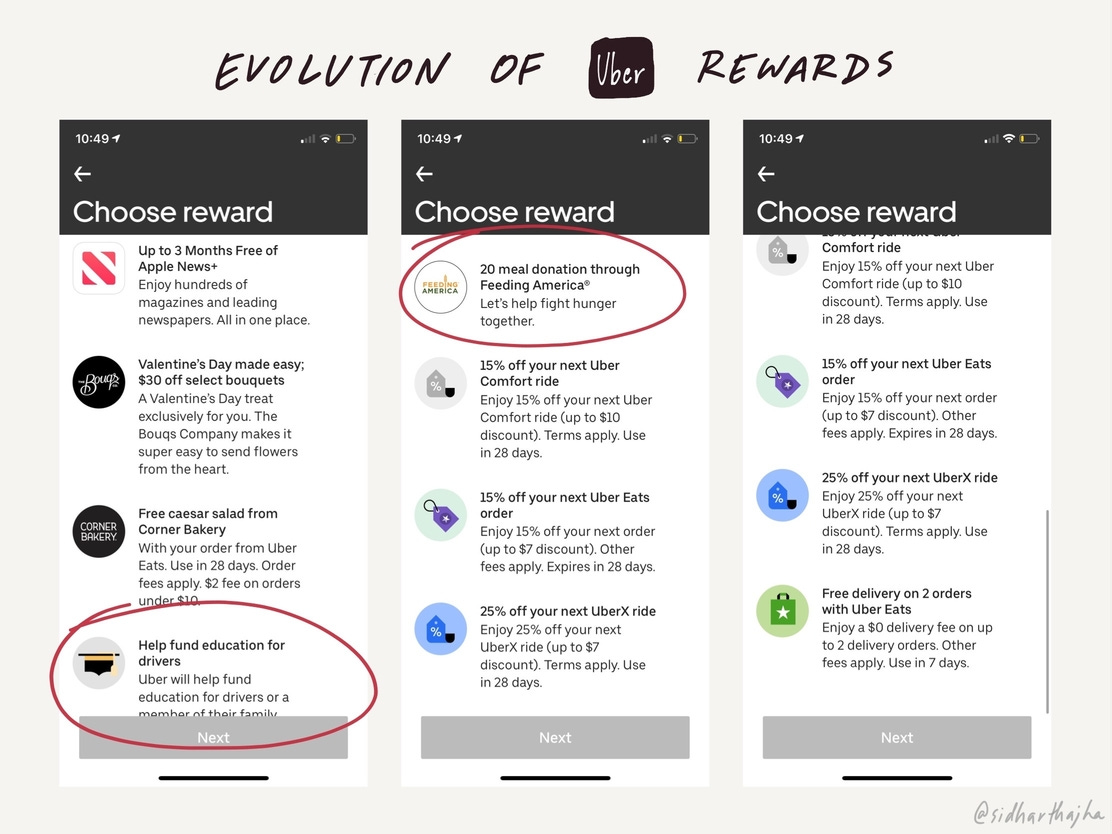 I see three big changes when compared to the options above:
Removal of the $5 Uber Cash option: They have removed the option to take a flat $5 Uber Cash to redeem however you want. This almost certainly means that this was the most loss-generating option for the company. Honestly, that makes sense since many customers wouldn't want to do the mental math to check which reward would give them the highest monetary benefit and would go with the flat $5 credit.

Partnership with other brands: There are collaborations with Apple News+, The Bouqs Company, and Corner Bakery. Presumably, in exchange for prime placement (these are the very first options), Uber is getting promotions online and at in-store locations from The Bouqs Company and Corner Bakery. They are encouraging their customers to use Uber products. Alternatively, Uber gets a cut of the revenue it sends their way. This turns Uber Rewards – which is fundamentally a retention play that costs money – into a potential revenue play. The Apple News+ option is intriguing. The revenue cut case still makes sense. It has no way of promoting Uber as a product – Apple News+ doesn't have any ads. It could be a part of their Apple Card partnership where you get 3% cash back when you use Apple Pay on Uber. It could also just be a "platform tribute" – many of Uber's most wealthiest customers use iOS, so it seems smart to keep the owner of that platform in your good graces.

Donations to charity: This is my favorite new addition and the one that I am most fascinated by. You can donate your reward to help fund education for Uber drivers or give 20 meals through Feeding America. For many customers who use Uber through their company credit cards, a $5 credit or 15% discount doesn't mean much. Through these two options, they have do something good without any friction. The skeptic in me does wonder if Uber will take tax breaks based on these donations. Regardless, I would love to see more brands adopt this as an option.
What's next: I can see the product adding some new features:
Tier the rewards: Uber Rewards has four loyalty tiers – Blue, Gold, Platinum, and Diamond. It would make sense to tier the options accordingly. Platinum and Diamond tier members could be shown brand collaborations with more luxury brands. Blue and Gold members could be shown collaborations with more budget-friendly brands.

Remove the ability to decide later: Right now, you can exit out of the "You've earned a reward screen" and come back to it later (Pro-tip: I save up my rewards and use them on trips to/from airports to get the maximum $7 discount on rides.) I can see them removing this option depending on how many people do something similar to what I do. Force the consumer to choose an option when they get a reward. This would almost certainly lower costs for the program.

Add more donation options: I think these options are very compelling. It's the most frictionless way to donate I have seen so far. More options with charities such as DonorsChoose and World Wildlife Fund will be appreciated. I can even see a potential option to get charity-themed "mods" on your Uber App if you donate to a specific charity.
As the company matures and bends towards profitability, I think Uber Rewards is one of the last places where we'll see consumer facing innovations. I'm excited to keep tracking them.
Note: Thanks to my friend Sami Akkawi (and longtime Snapshots subscriber) for sending me screenshots of the new rewards.
Concept of the week
Buckets of learning and corresponding skills
Otto Von Bismarck, the first German chancellor and the dominant player in European geopolitics at the turn of the 20th century alongside Queen Victoria, once said:
Only fool can learn from his own mistakes. A wise man learns from the mistakes of others.
This quote got me thinking about the different ways of learning and the corresponding skills that are needed to learn effectively for each way.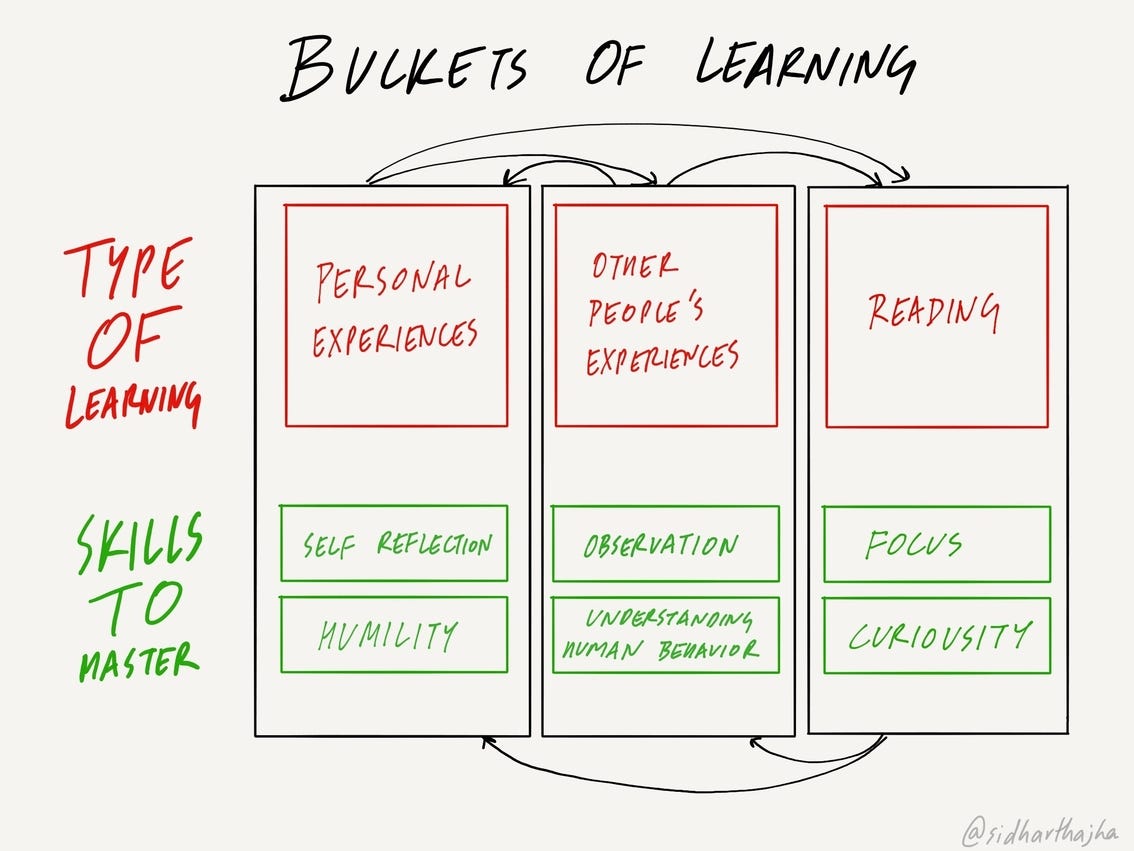 Personal experiences: This is the world as you experience it. The events that happen to you or that you set in motion. It's your decision making ability. In order to learn from these, you need to develop humility and the ability to self-reflect constantly. By definition, this is not a scalable way of learning.

Other people's experiences: This is somewhat scalable. The more people you are connected to, the more decisions and paths you can observe. You need to have great observational skills and an understanding of human behavior to extract lessons from others.

Reading: This is the most scalable. You can choose which books to read and what to learn from. To get the most of this way of learning, you need to develop an ability to focus for long periods of time and curiosity to read widely.
All of these ways reinforce each other. If you read about a particular character in a book, it's easily to identify that archetype in real life and learn from their experience. If you personally experienced a scenario, a similar scenario will have better retention in your brain.
Most people are good at one of these ways of learning. If you're naturally good at two, you have a head start. If you're good at all three, it's up to you to make the most of your gift.
Random corner of the week
What's the best way to build an audience? Should I publish my book chapters in the form of blog posts? How do I leverage social media? Emerging writers usually face a similar set of questions.
Holloway wants to be a platform for this emerging talent.
After publishing a series of guides focused on executives, including one on how to effectively use Twitter which I featured on a previous issue of Snapshots, they now want to help new writers find an audience.
It's a great idea. Not only will it help the up and coming writers, but because those writers will bring along audiences of their own, it increases distribution for Holloway's own guides. In addition, they would also presumably be taking a revenue cut out from the authors.
In any case, I'm excited to see what they will build and how the authors will leverage this new platform.
Meal of the week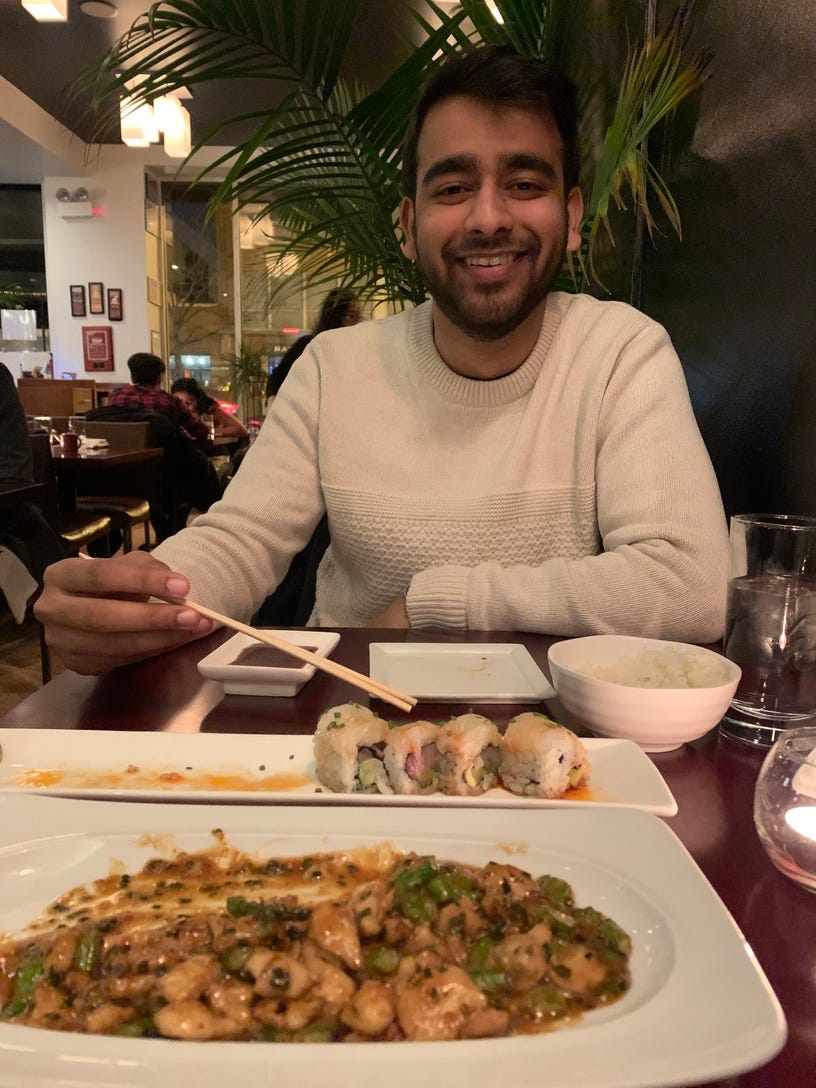 This week, I went to Mirai Sushi in Wicker Park. Their dishes prepared in Togarashi sauce are amazing and affordable. Definitely recommend it.
---
That wraps up this week's Sunday Snapshots. If you want to discuss any of the ideas mentioned above or have any books/papers/links you think would be interesting to share on a future edition of Sunday Snapshots, please reach out to me by replying to this email or sending me a direct message on Twitter at @sidharthajha.
Until next Sunday,
Sid