Sunday Snapshots (19th July, 2020)
The Right Stuff, Disintermediating friends, Streaming-as-a-service and Amazon, Gestures, Radioactive waste, restoring watches, and Waffle House
Hey everyone,
Greetings from Evanston!
All of Twitter was fascinated by GPT-3 this week. GPT-3 is an impressive predictive language model that can create extremely compelling outputs with very little prior examples. I thought about how some day, an AI bot could write this newsletter. But until that day, every issue of Snapshots is handcrafted by yours truly on Sunday mornings. I'm a tad bit cheaper too – GPT-3 cost $4.6M to train while every issue of Snapshots costs me $4.60 for the extra large cold brew from my local coffee shop. In the battle for attention, I like my chances against GPT-3.
But when our future AI overlords eventually ask, I was with them all along.
In this issue of Snapshots, I want to explore:
The Right Stuff by Tom Wolfe

Disintermediating friends and online dating

Streaming-as-a-service, Amazon, and social commerce

The return of a beloved Snapshots section from the archives

Designing human-proof buildings for radioactive waste, restoring watches, and Waffle House
Book of the week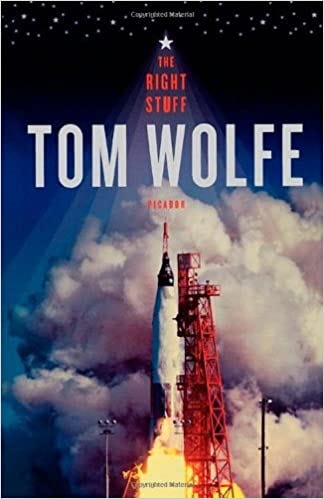 Here's an introduction to Tom Wolfe from his obituary in the New York Times:
Tom Wolfe, an innovative journalist and novelist whose technicolor, wildly punctuated prose brought to life the worlds of California surfers, car customizers, astronauts and Manhattan's moneyed status-seekers in works like "The Kandy-Kolored Tangerine-Flake Streamline Baby," "The Right Stuff" and "Bonfire of the Vanities," died on Monday in a Manhattan hospital. He was 88.
The Right Stuff is a book by him about the early space race era (primarily Project Mercury) that asks the simple question – what's the right stuff for an astronaut that sit on the top of a rocket that can blow up in countless ways.
When you read a book like this, you experience a cocktail of emotions on each page. Sometimes you gall at the bravery. Sometimes you roll your eyes at the clash of personalities in the face of the larger mission.
Let's get into the takeaways:
Skin in the Game – literally: Here's a quote from The Right Stuff describing how young men going into military flight training – where most astronauts came from – were made to feel:

Herein the world was divided into those who had it and those who did not.

Now, of course this "it" is the right stuff. But what's more interesting (and a bit more morbid) is to think about the young cadets who did not have "it". What happened to them?

Well, there was the one statistic that struck fear into the hearts of the pilots' family: 23% percent chance of death. Those were not good odds. But this is the game that they were in, and in this game not everyone survived. It reminded me of this section from Skin in the Game by Nassim Taleb:

Imagine people with similar mental handicaps, people who don't understand asymmetry, piloting planes. Incompetent pilots, those who cannot learn from experience, or don't mind taking risks they don't understand, may kill many. But they will themselves end up at the bottom of, say, the Bermuda Triangle, and cease to represent a threat to others and mankind.

This time it's different: It's conventional investing wisdom that one of the biggest red flags for an impending financial crisis is the "this time it's different" sentiment.

The idea is also applicable to individuals. Fighter pilots, when confronted and asked about the 23% death rate, would quip:

The figures were averages, and averages applied to those with average stuff.

It's tempting – some may even say necessary when doing something intrinsically difficult – to think that you're different. But keeping an eye on the odds is not cowardice, it's prudence. I guess fighter pilots do a different kind of calculus...
Resisting progress: Reading through the initial launch of Project Mercury, one of the things that surprised me the most was the opposition from the status quo. Even the fighter pilots who were flying these missions had a prevailing sentiment:

They was not going to be a lot of piloting in Mercury.

This was because astronauts were essentially put in a capsule and shot into space. They had a nickname for the project: "Spam in a can".

Most progress is resisted. Today any "patriot" would bend over backwards to praise these astronauts. Back then, they were laughing at them.
Long read of the week
A couple of weeks ago, I re-listened to a podcast episode between Jeff Morris Jr. and David Perell to create my notes on it. Jeff used to be the Chief Revenue Office at Tinder and nowhere is the inextricable link between human behavior, product design, and business models clearer than dating apps. It's taken me down a rabbit hole of how these apps are disrupting the status quo.
So this week, I read a paper from researchers at Stanford titled Disintermediating your friends: How Online Dating in the United States displaces other ways of meeting. Meeting your partner through family and friends has been in rapid decline over the last two decades. Like all trends, this will probably be accelerated by COVID-19.
This brings into question the tremendous power the algorithm underlining these dating apps have over human evolution. Market mechanisms will take care of anything too crazy, but even short sustained changes in human population can have massive downstream effects when played out for a few generations.
If you've read any more studies or essays on this, please send them my way.
Business move of the week
Streaming-as-a-service, independence, and Social commerce
All companies have growth asymptotes and Amazon just raised theirs.
While Amazon currently stands as the undisputed champion of e-commerce in the US, cracks are appearing on the edges. Quality control issues with their third-party marketplace, arming of the rebels, and smart competition all eat away at the solid foundation built by Bezos' Day 1 philosophy.
An interesting vector of attack at this foundation are social networks. Instagram has developed solutions for direct to consumer brands to sell from their platform. I have bullish on Snapchat since mid-2019 (when I put all my savings from my summer internship into the stock) because of its moves towards becoming a platform and much of that growth will be fueled by e-commerce directly and indirectly. In China, social commerce has already succeeded. Companies like Pinduoduo offered group discounts for purchasing commonly used products like groceries and cleaning supplies. Now, it has removed branding middlemen by going direct to consumer on many of these products.
So Amazon's announcement to launch a platform called Interactive Video Service that allows anyone to start high quality streams was extremely intriguing. This service is built on top of Amazon Web Services (AWS) and allows anyone to essentially create a white-label streaming platform. This allows large creators to move off platforms like Twitch (also owned by Amazon) to create their own. This makes them completely independent. This move makes sense as Twitch can help with discovery and then creators can move on to a customized solution built on top of this new service. Amazon gets a cut for enabling both the discovery and the success process.
What's interesting is how one could potentially use this platform (and others like it) for social commerce. Imagine QVC-type streams with influencers doing weekly hauls. Combined with interactive features like polls and Q&A, this becomes a powerful source of discovery for up and coming brands. In the same way that you stream games with your friends, you could shop online with your friends through a company built on this service. Maybe you'll do that shopping on Amazon, maybe you won't. It also allows creators in other verticals to go independent. Verticals like health & fitness, gaming, and music.
But Amazon will still participate in all the upside and maintain its march towards taking a cut of all economy activity.
Gesture of the week
Long time Snapshots subscribers will remember this section where I featured something nice that someone did when they didn't have to. Whether it was the Qantas CEO inviting a young fan to a strategy meeting, Ryan Petersen giving a young fan a tour of Flexport's 747s , or Daniel Gross helping PhD students to make their theses available to all, it added a splash of positivity to our lives. So I'm bringing it back.
This week, @LukeMessac shared a letter written to him by Dr. Fauci of COVID-19 fame (although he has served in the CDC for a very long time). Notice how Dr. Fauci raises Luke's expectations of himself through this letter. He's an example of old school authority that is exceedingly rare these days.
Odds and ends of the week
A few interesting videos I watched this week:
☣️ Designing human-proof buildings for radioactive waste: Let's think about an interesting design problem: How do you stop future generations of humans from accessing radioactive material? The current symbol for biohazards has a common connotation because of our collective consciousness around it. That's exactly what this video is about.
⌚ Restoring a watch from the Vietnam war: I first heard about Hodinkee back in 2015 when Kevin Rose took over as CEO of the company. It's company that has brought together watch fanatics from around the world. In this video, they restore a watch that belongs to a Vietnam war veteran. Heart-warming stuff.
🧇 Anthony Bourdain at Waffle House: Very few videos can pack this much emotion into less than 3 minutes – Vivaldi's Winter 1 towards the end is perfectly queued up. Pairs well with this article on managing a Waffle House store for a year.
---
That wraps up this week's newsletter. You can check out the previous issues here.
If you want to discuss any of the ideas mentioned above or have any books/papers/links you think would be interesting to share on a future edition of Sunday Snapshots, please reach out to me by replying to this email or sending me a direct message on Twitter at @sidharthajha.

Until next Sunday,
Sid