Sunday Snapshots (21st June, 2020)
The issue of reflection, When Breath becomes Air, Information asymmetries, The Apple x Intel breakup, Sadness, and Okja
Hey everyone,
Greetings from Evanston!
Hello Snapshot-ters, and welcome to the 55th issue of Snapshots – the issue of reflection. Where I – Sid – reflect with you on the best things I've encountered this week. I will share books I've been reflecting on. Papers I've been reflecting on. Business moves I've been reflecting on and a few other random things I've been reflecting on.
But first, go check out the guest post I wrote on Packy McCormick's amazing newsletter, Not Boring, about how the world of Succession – my favorite TV show – mirrors the world of audio streaming – my favorite industry to analyze. Filled with drama, complicated alliances, and shifting loyalties, there's nothing passive about the world of audio right now. One of the best things about writing online is the community that you build. For me, Packy has been a guide, a mentor, and a colleague in what can sometimes be a very lonely craft. It's no surprise his newsletter has taken off 🚀. He sets the tone for the rest of us. Go subscribe to his writing:
Now on to this issue of Snapshots, in which I want to talk about:
When Breath Becomes Air by Paul Kalanithi

An academic paper from 5 year ago that I re-discovered

Apple breaks up with Intel

Laura Deming's piece on sadness

And more!
Book of the week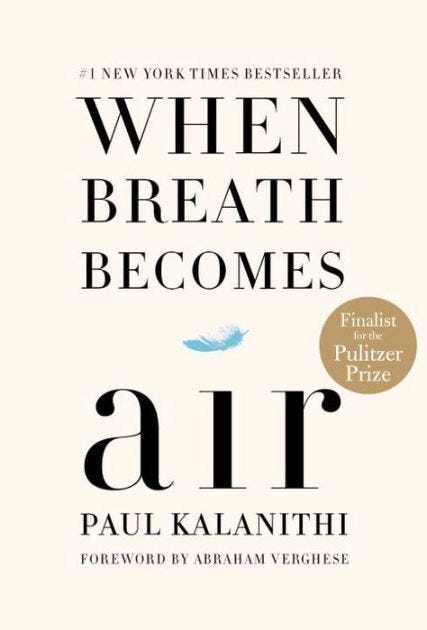 Cover flaps are typically narcissistic and talk about how great the author is and how they went to [insert-Harvard-Yale-Stanford-Princeton] or got some [insert-extremely-prestigious] award. Rarely do they capture the essence of the book.
That rare achievement was accomplished by this week's book, When Breath Becomes Air by Paul Kalanithi. Its cover flap says:
What makes life worth living in the face of death? What do you do when the future, no longer a ladder toward your goals in life, flattens out into a perpetual present? What does it mean to have a child, to nurture a new life as another fades away? These are some of the questions Kalanithi wrestles with in this profoundly moving, exquisitely observed memoir.
Paul grew up in Kingsman, Arizona to be one of the best neurosurgeons in the country. At the age of thirty-six, as he was wrapping up a decade's worth of training, he was diagnosed with stage IV lung cancer. When Breath Becomes Air is Paul's examination of the life that he lived, the life that he hoped to live, and how he tried to bridge the impossible gap between the two.
As profound as the words on the cover flap were, the book's final words were equally moving. Talking to his infant daughter, a dying Paul writes:
When you come to one of the many moments in life where you must give an account of yourself, provide a ledger of what you have been, and done, and meant to the world, do not, I pray, discount that you filled a dying man's days with a sated joy, a joy unknown to me in all my prior years, a joy that does not hunger for more and more but rests, satisfied. In this time, right now, that is an enormous thing.
Instant tears.
And don't worry, this stream of emotions will carry on the book's epilogue, in which Paul's widow Lucy writes after his death:
What happened to Paul was tragic, but he was not a tragedy. I expected to feel only empty and heartbroken after Paul died. It never occurred to me that you could love someone the same way after he was gone, that I would continue to feel such love and gratitude alongside the terrible sorrow, the grief so heavy that at times I shiver and moan under the weight of it. Paul is gone, and I miss him acutely nearly every moment, but I somehow feel I'm still taking part in the life that we created together.
Instant tears part 2.
This newsletter heavily features political biographies, company breakdowns, and world history. I feel comfortable traversing those areas. I felt deeply uncomfortable this week reading this book. In that uncomfortable feeling was embedded another – that this feeling of deep empathy is one I want to hold on to. So if you have any other suggestions about similar books or articles, send them my way by replying to this email or sending me a message on Twitter at @sidharthajha.
If nothing else, go read this book. I know you'll love it.
Long read of the week
The Digital Provide by Robert Jensen
One of my fondest memories from boarding school is writing what's called an Extended Essay – a thesis-like paper on a topic and subject of your choice. My Extended Essay was titled The Economic Bottlenecks in the Market for Tomatoes in Pune, India. This paper had a literature review section, a kind of snapshot of what has already been written in the field pertaining to the topic. In it, I talked about a paper written by economist Robert Jensen on "Information technology, market performance, and welfare in the south Indian fisheries sector." It's about how the introduction of phones in a fish market in South India led to significantly decreased price volatility in the market since merchants were able to coordinate on price, quality, and quantity of their goods.
I re-discovered that paper this week. What makes this paper so interesting is not the conclusion – the fact that price volatility comes from information asymmetry – but the shear visual effect of the phenomenon.
Here's the first graph showing the adoption of cellphones to the market: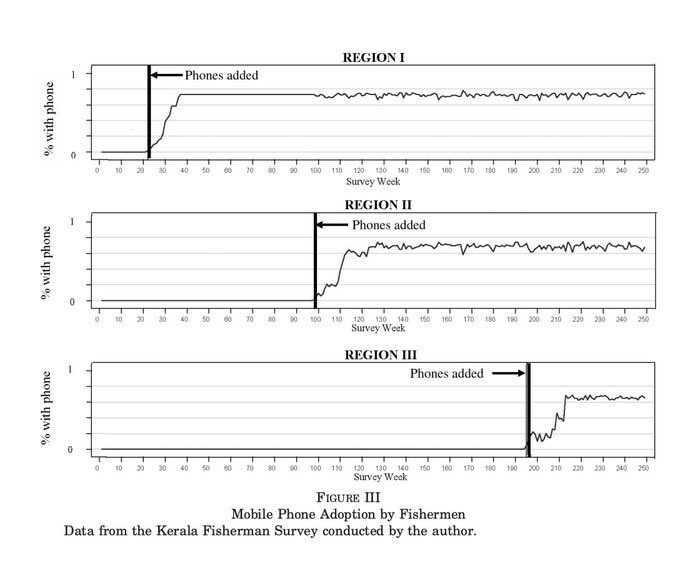 The figure right after that shows how phones affected prices.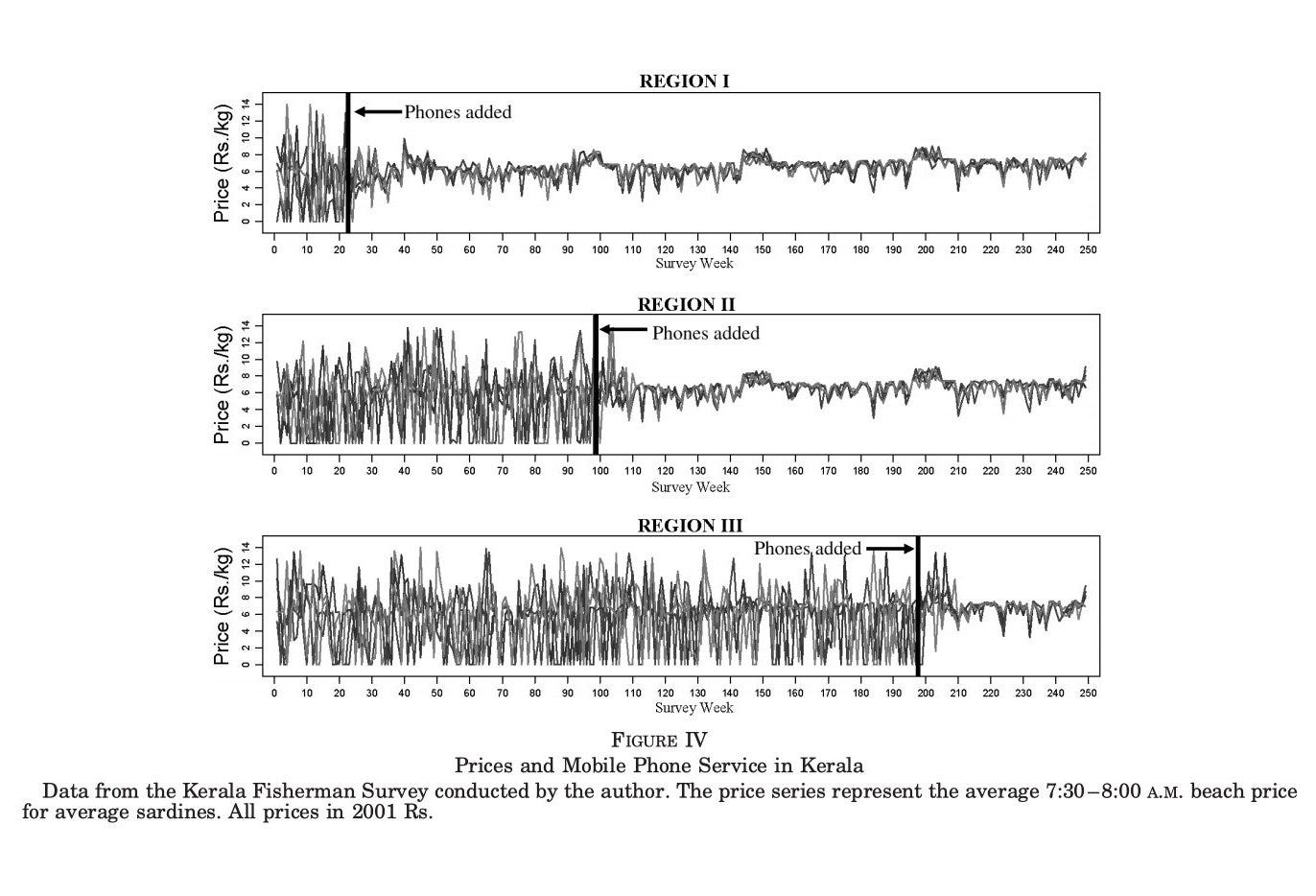 It's like the phones acted as a damper on the price oscillations!
Business move of the week
Apple breaks up with Intel (NYT)
If you're a large company – let's say the largest in the world by market capitalization – and you've squeezed out almost all the value from the value chain, what do you do next?
You try to remove the almost from that sentence.
That's exactly what Apple is doing with its efforts to get rid of Intel chips from the Mac and introduce its own line of processor chips. The value chain for the Mac is full of capital-B Benjamins for Apple, but it doesn't own one of the most expensive components – the chips. For that, it has to go to ones of the granddaddies of the tech industry. It has to go to Intel.
Apple is a company whose Mac division runs on a 19% profit margin (compared to 4% that Dell and its other competitors gets). Whose MacOS software allows it to sell its native services like iCloud storage and Apple Music at very high margins. Whose App Stores give it an automatic 30% cut on every single purchase made in the store. So the fact that it has to buy chips from another company doesn't just seem inefficient and costly, it seems antithetical to the soul of the company.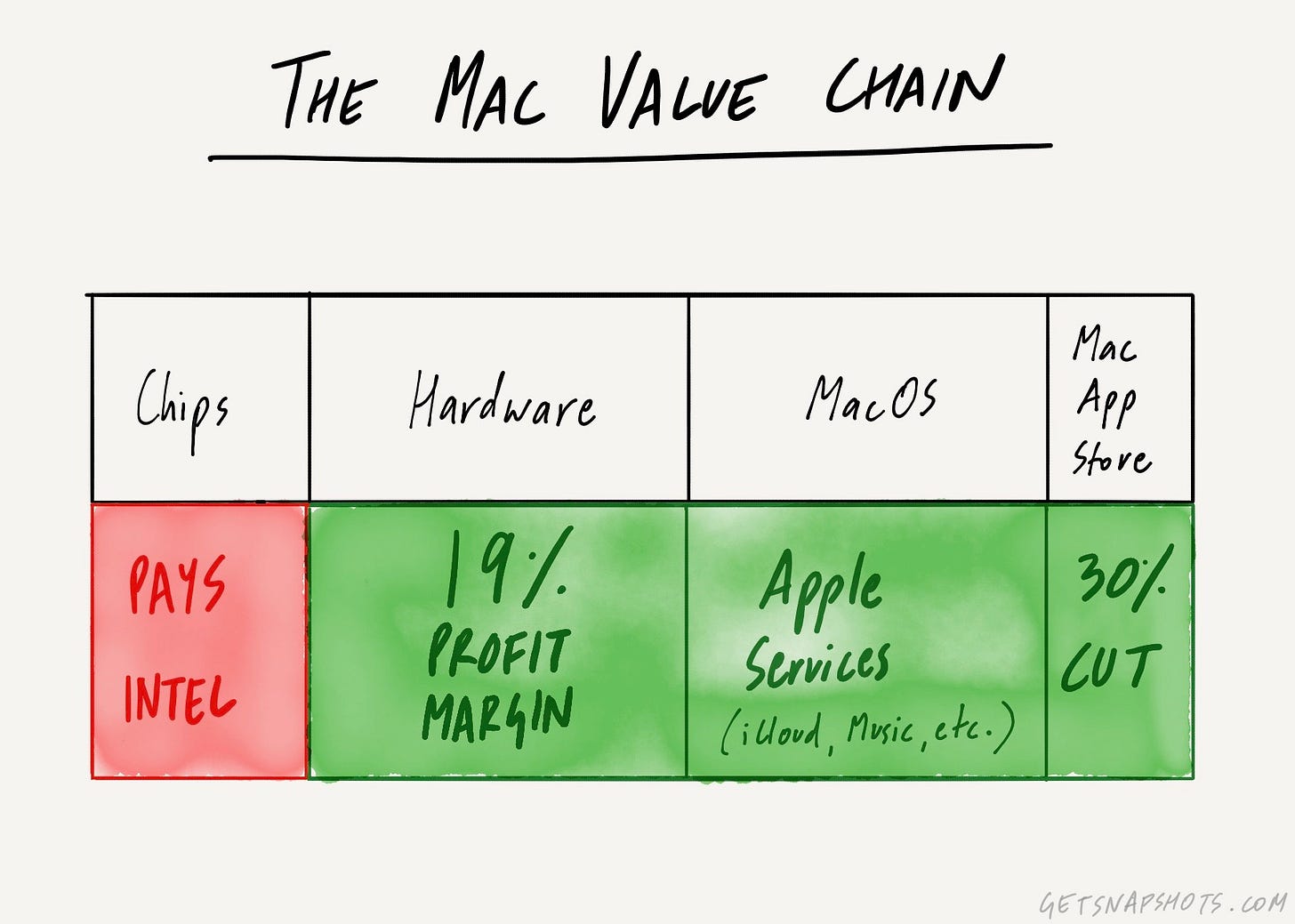 But the problem with processor chips, just like edible chips, is that you can't just have one. Developing and fabricating processors is extremely expensive with high upfront fixed costs. Fortunately for it, Apple is a company that needs to worry about neither the high nor the upfront part. It has more than 100 million Macs to spread the high costs over and almost $200B in cash on hand to invest upfront. It is uniquely positioned to make this move. Just like every good breakup, Apple probably told Intel, "It's not you, it's me."
The only difference is that it's true in this case.
Random corner of the week
How not to be sad by Laura Deming
Maybe it was the fact that I read When Breath Becomes Air this week. Maybe it was the fact that I graduated college on Friday. Maybe it was the fact that I said goodbye to many of my friends this week.
Whatever the cause and however blended it was, I felt pretty melancholic this week. I've been reflecting on my college experience and it's tough to not regret some of the things I did and some of the things I didn't do. As with any intense experience, there were intense hits and intense misses.
Good thing I found Laura Deming's post titled How not to be sad earlier this morning. It shares many of the same feelings I have felt in the last week. More importantly, it offers a few antidotes to this feeling:
Find a way to believe that you *should* be feeling better, and want to

Notice when you are yelling at yourself, how incorrect some of those thoughts are

Find a way to correct catastrophic/incorrect thoughts every single time they come up
It's a must read for anyone who is ambitious but feels like they are always missing the mark – you're probably not and this piece will help you work through that feeling.
Movie of the week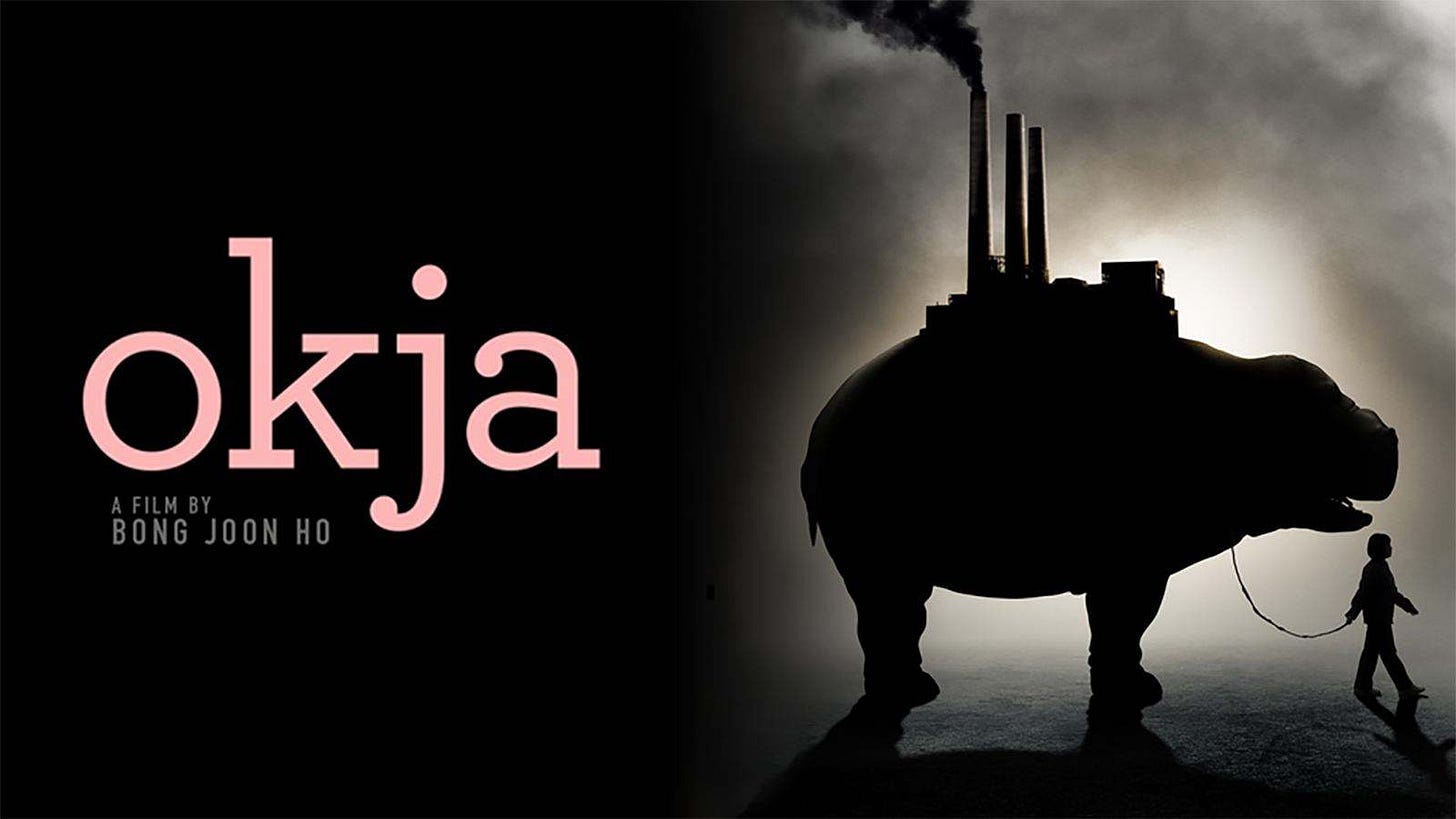 I've been digging through the work of Bong Joon-ho of Parasite fame. This week, I watched Okja. It's a combination of social commentary (this is Joon-ho after all), slapstick humor, and the deep tragedy of industrial farming. I highly recommend watching it.
---
That wraps up this week's newsletter. If you want to discuss any of the ideas mentioned above or have any books/papers/links you think would be interesting to share on a future edition of Sunday Snapshots, please reach out to me by replying to this email or sending me a direct message on Twitter at @sidharthajha.

Until next Sunday,
Sid