Sunday Snapshots (26th May, 2019)
Decision-making, Uber, academic publishing, and fried chicken
Hey everyone,
Happy Memorial Day weekend! This week I came across:
Ideas that challenged my views on decision-making

A study on how Uber changed the drinking-and-driving culture in NYC

An incredibly nice gesture from Daniel Gross

How Amazon continues to be relentless

And more!
Book of the week
I've been reading Rory Sutherland's Alchemy over the last week. Alchemy is a critique of over-rationalization in today's economy and an appeal to embrace serendipity in the business world. It pushes back on my thinking about decision-making that have been moulded by engineering classes over the last three years. The closest comparison to the book is Nassim Nicholas Taleb's Antifragile which has a central theme and explores it in a flaneur-type style. I will make a more comprehensive post with the lessons learned as a part of my Summer of Learning blog, where I will publish an article every day for 60 days starting June 17th. In the meantime, if you consider yourself an analytical person, you should pick up this book to explore the other side.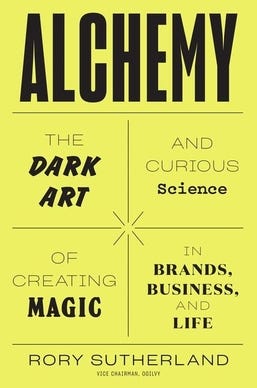 Best long read of the week
New York City Drunk Driving After Uber
This is an academic paper on the effect of introducing Uber on drunk driving accidents in NYC. A difference-in-difference analysis (holding all variables constant over a similar time period for a control and treatment group) showed "a 25-35% decrease in the alcohol-related collision rate for the affected New York City boroughs, or about 40 collisions per month." Amidst all the talk about the 'failed IPO' of the ride-hailing company, it can be easy to forget the sheer cultural changes the company has brought in across the globe. I always think about how much of a non-issue transportation has become when I travel, but this paper by Jessica Peck of CUNY's Graduate Center looks at the life-saving aspects of the company.
Personal success/failure of the week
Connected two friendships from across the globe so that one could sublet the other's apartment for the summer. It was a moment of asymmetric opportunity – it requires very little work from me (15 minutes of talking to both friends) and means a lot to both of them (2 months of housing for one, 2 months of rent for the other). I live for moments like this when worlds collide and I can be helpful.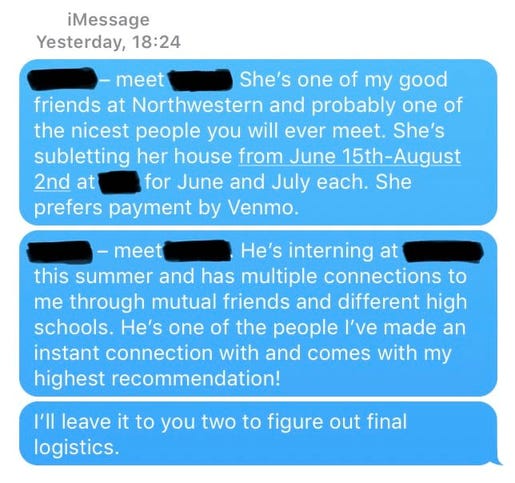 Gesture of the week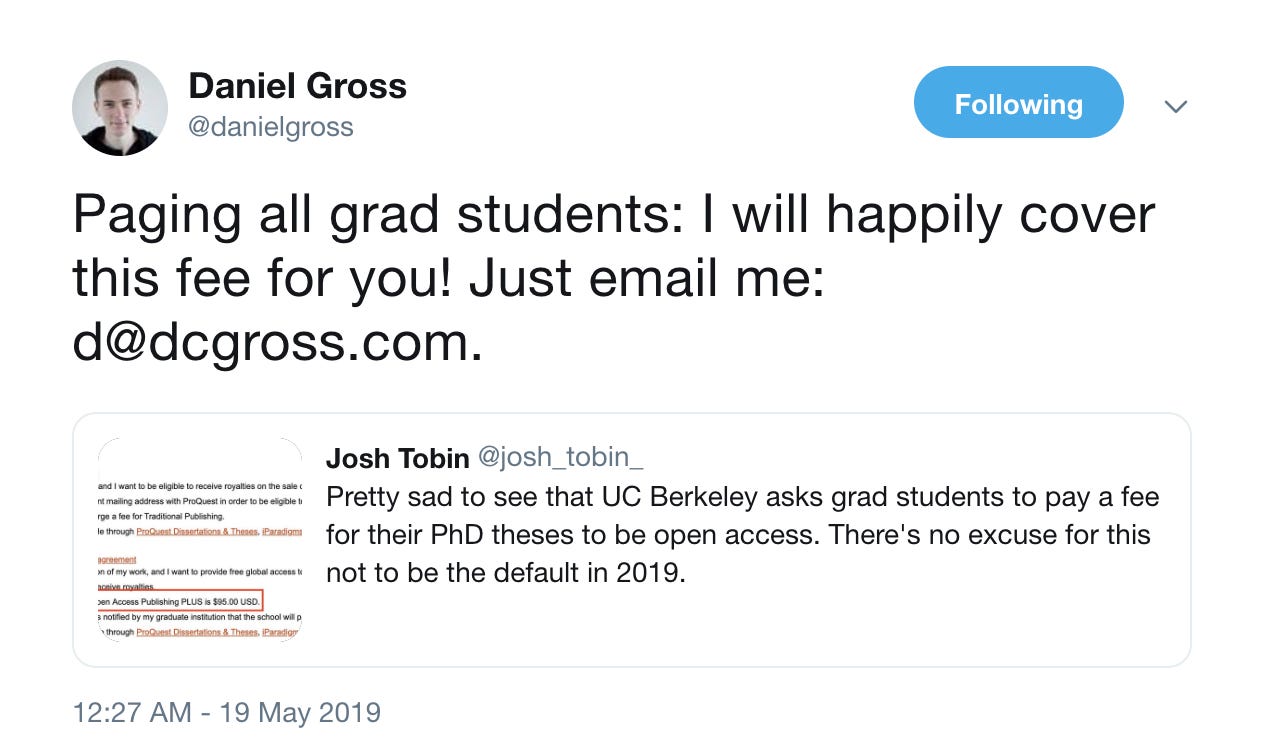 It's no secret that the academic publishing industry is shady. In other example of this, UC Berkeley is asking its graduating PhD students to pay a $95 fee to make their theses accessible to everyone. Daniel Gross (@danielgross) steps in with an incredibly nice offer to pay it for all grad students who reach out.
Daniel is the CEO of Pioneer – an experimental fund that is "an attempt to find the most brilliant people in the world, wherever they are, and to identify cheap and scalable interventions that might help them achieve their goals." More about him:
Daniel Gross: Dreams and Determination by David Perell
What Daniel Gross Thinks About Basically Everything by Erik Torenberg
Business move of the week
Amazon Invests in U.K. Food-Delivery Startup Deliveroo
The operational backbone of the e-commerce boom is something I've been interested in ever since I spent a summer interning at Oars+Alps, a direct-to-consumer men's skincare brand in Chicago. Out of all of Amazon's moats, I think their operational infrastructure of fulfillment centers that allows for 2-day (and soon 1-day) shipping is perhaps the strongest. The world of atoms is harder to replicate than the world of bits.
Amazon continues its international expansion through Deliveroo in the UK. Most of the analysis in this piece and others looks at the acquisition through the lens of the delivery wars in the US. It would be good to get a native and local perspective on it. A lot of my friends are studying abroad in the London this fall, so I'll be sure to ask them about the delivery dynamics in the country. In the meantime, if you have insights into this market, please reply to this email.
Meal of the week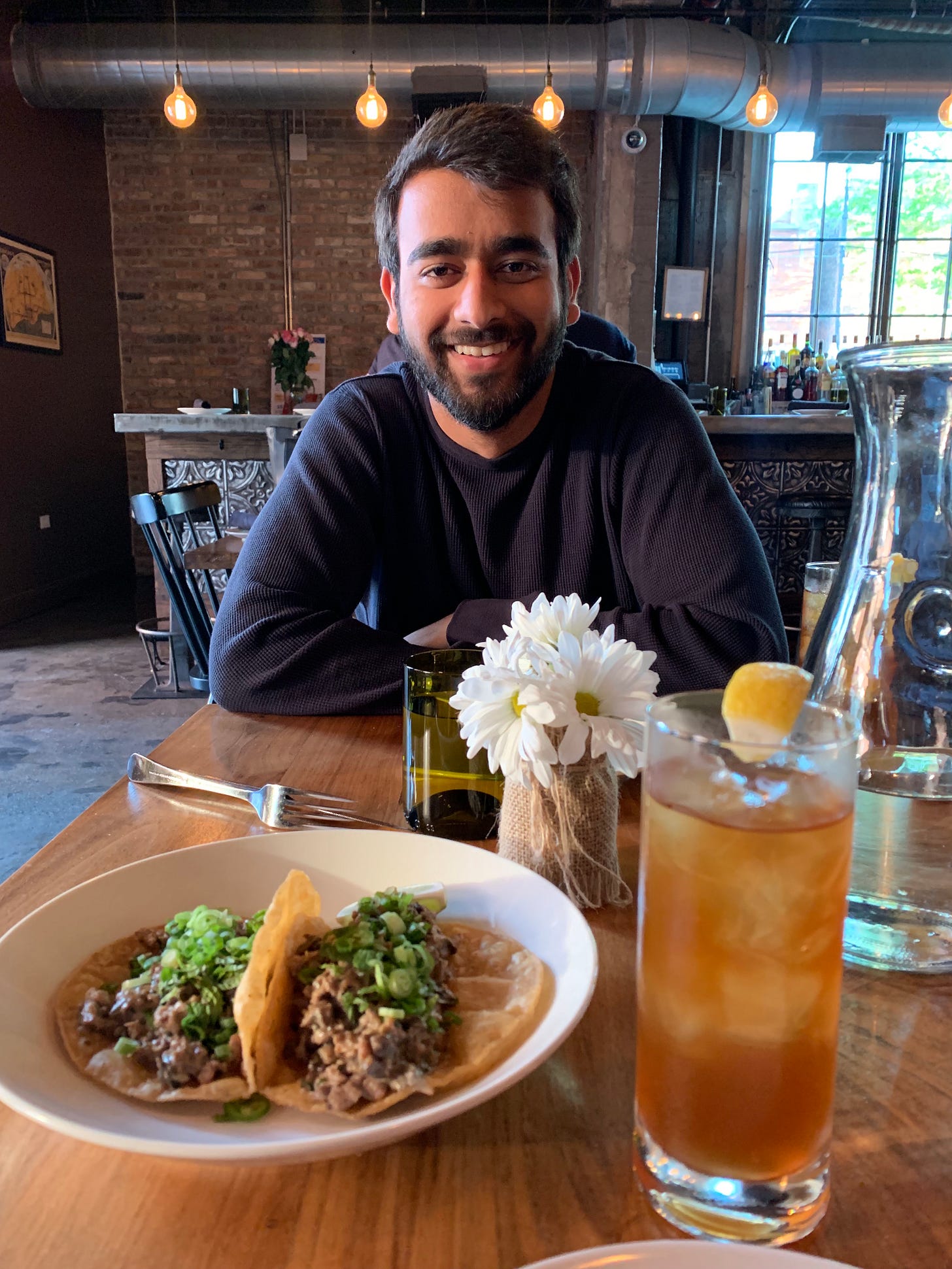 Split Rail in Wicker Park has amazing, cheap American food. I got to try the special South East Asian Tacos (pictured), but the star of the show was the classic Fried Chicken bucket. The place is open from two sides, which makes it a great summer spot. Not necessarily a place you would go to if you're visiting, but a great choice for Chicagoans to try.
Random corner of the week
I always think about how I just want a 2-3 hour push towards the end of a long work day. I don't need an espresso that'll keep me awake until 2 AM. William Minshew (@wminshew) had the same thought: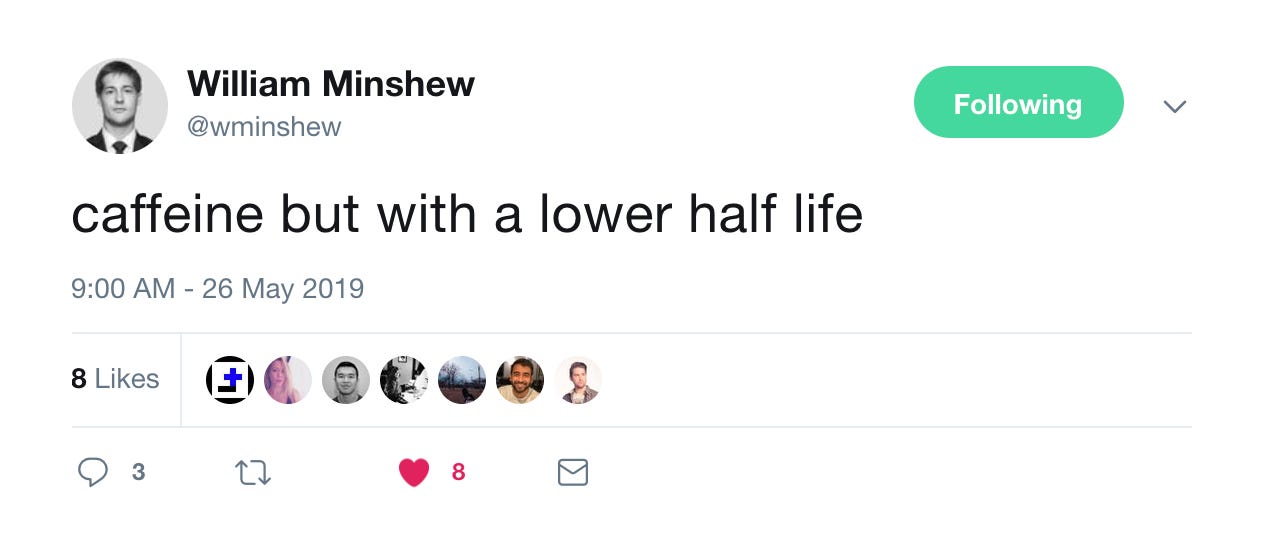 If you have any solutions to this problem, please reply to this email to let me know.
---
That wraps up the first Sunday Snapshots. If you want to discuss any of the ideas mentioned above, please reach out to me by replying to this email.
Until next Sunday,
Sid